This recently completed project, headed by the Austrian architectural firm Coop Himmelb(l)au (that's how they spell it and I don't get it either!) is an anthropology and science museum situated at the confluence of the Rhone and Saone rivers in Lyon, France.  What a great site to win an architectural competition.  It is an interesting building to say the least:
http://www.telegraph.co.uk/travel/travelnews/11303746/Lyons-Musee-Des-Confluences-the-new-Guggenheim.html
Actually, follow this link for a fairly concise and informative description – leave it to the Brits for excellent writing and journalism.
Here's a glitzier view off Coop Himmelb(l)au's website:
http://www.coop-himmelblau.at/architecture/projects/musee-des-confluences
The interior is nuts:
Also from their website.
Incidentally, I am not a big fan of Teutonic websites, this one included, but feel free to knock yourself out navigating through it attempting to get some idea what this building is all about.  Being an American and a mechanical engineer by trade and profession, on frequent occasion I have to navigate such websites seeking, usually desperately seeking under utterly preposterous deadline demands, technical information from said Germanic websites.  Swiss.  German.  Austrian.   There is no civilized culture on this planet more clueless on how to present technical information on a website, and  AFICS, this website is no different.  Enough about websites, lets get into this place.
http://www.designboom.com/architecture/coop-himmelblau-musee-des-confluences-lyon-01-05-2015/
The Musée des Confluences is a science centre and anthropology museum which opened on 20 December 2014 in the 2nd arrondissement of Lyon, (Rhône), France. It is located at the southern tip of the Presqu'île at the confluence of the Rhône and the Saône, adjacent to Autoroute A7, and comprises part of a larger redevelopment project of the Confluence quarter of Lyon. The deconstructivist architectural design, said to resemble a floating crystal cloud of stainless steel and glass,[1]

The museum includes collections of natural science, anthropology, and Earth Sciences of the Musée d'histoire naturelle – Guimet. These collections will be supplemented by exhibitions of arts and crafts.

The three major exhibitions deal with the questions "Where do we come from ?, "Who are we ?" and "What do we do ?". The first question is about the origins and purposes of both the Big Bang theory, history of the universe or the different representation of death in the cultures of world. The second question will present the man at the heart of the biodiversity. It will explain the mechanisms of the evolution, the man's place among the other animal species, and will address the specificity of man linked to the brain or on its own performance. The third question finally addresses the functioning of societies: cooperation, competition, creative processes…

The museum stands 44 m (144 ft) high, 150 m (492 ft) long, and 83 m (272 ft) wide. Total area will be 22,000 m² (238,000 sq ft), 6,500 of which will be devoted to exhibitions, three times greater than the museum exhibition space. Nine concurrent exhibitions (3 permanent + 6 temporary), plus four discovery spaces and two auditoriums will be available.  http://en.wikipedia.org/wiki/Mus%C3%A9e_des_Confluences
Far out.  Let's go!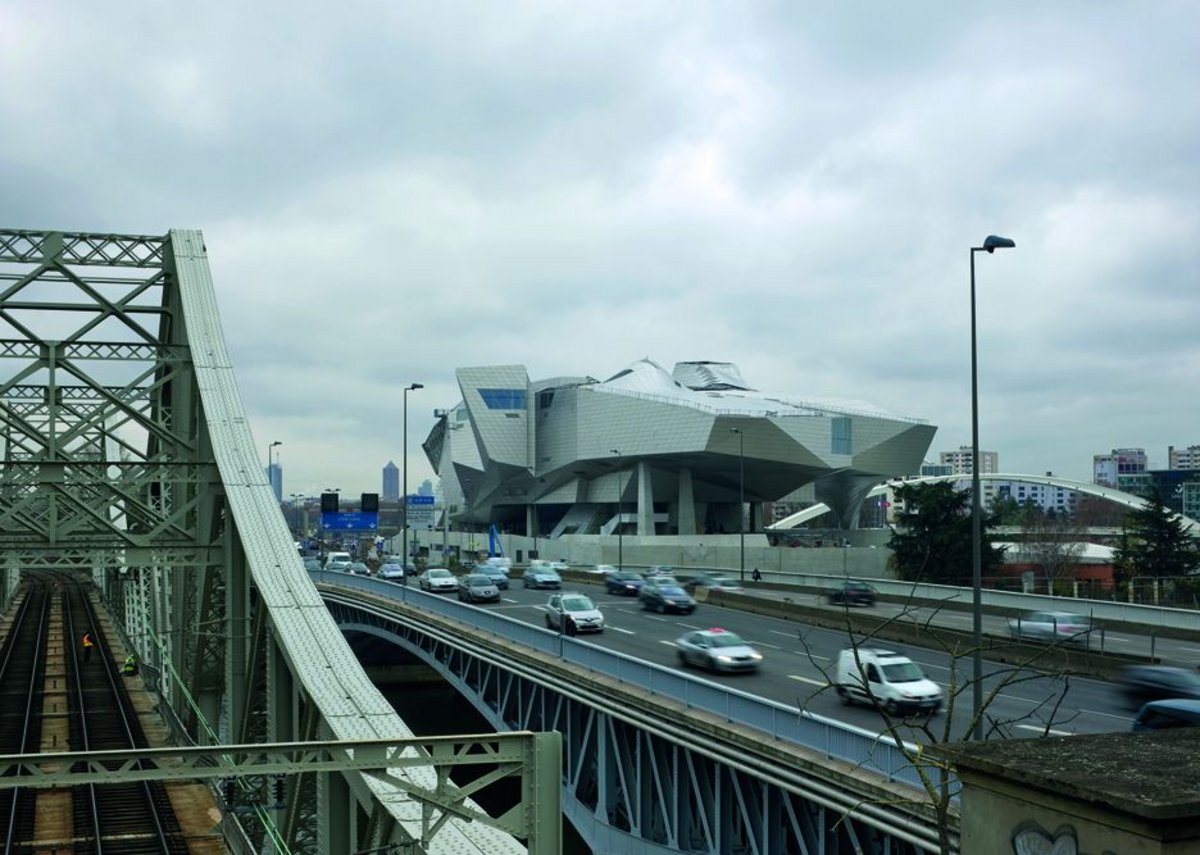 http://www.ribaj.com/buildings/musee-des-confluences-in-lyon-france
Click the link for some fairly decent views of this place in its native habitat.
Some have noted that this building is an example of the architectural school known as "Deconstructivism" – kind of a weird term for people that construct things!
Deconstructivism is a development of postmodern architecture that began in the late 1980s.

It is characterized by fragmentation, an interest in manipulating a structure's surface, skin, non-rectilinear shapes which appear to distort and dislocate elements of architecture, such as structure and envelope. The finished visual appearance of buildings that exhibit deconstructivist "styles" is characterized by unpredictability and controlled chaos.

Two strains of modern art, minimalism and cubism, have had an influence on deconstructivism. Analytical cubism had a sure effect on deconstructivism, as forms and content are dissected and viewed from different perspectives simultaneously.

Deconstructivism also shares with minimalism a disconnection from cultural references…With its tendency toward deformation and dislocation, there is also an aspect of expressionism and expressionist architecture associated with deconstructivism…The work of Wassily Kandinsky also bears similarities to deconstructivist architecture. His movement into abstract expressionism and away from figurative work,[11] is in the same spirit as the deconstructivist rejection of ornament for geometries.
Wassily Kadinsky is cool.
Not everybody thinks Deconstructivism is cool:
Critics of deconstructivism see it as a purely formal exercise with little social significance. Kenneth Frampton finds it "elitist and detached".[13]Nikos Salingaros calls deconstructivism a "viral expression" that invades design thinking in order to build destroyed forms…Other criticisms are similar to those of deconstructivist philosophy—that since the act of deconstructivism is not an empirical process, it can result in whatever an architect wishes, and it thus suffers from a lack of consistency…Others question the wisdom and impact on future generations of an architecture that rejects the past and presents no clear values as replacements and which often pursues strategies that are intentionally aggressive to human senses.[6]
Well.
One thing is certain.  With Computer Aided Design (CAD) just about anything a designer can think up can be constructed in 3-D electronic space.  With computer analytical tools just about any wild shaped thing or building can be analyzed for structural soundness.  With modern methods and materials of construction it can probably be built.  And from what I know of the design/creative mind, weird buildings will keep getting designed and built; and for a museum of anthropology and science, this one is pretty weird.  But I'd like to go see it anyhow.  Weird or not.